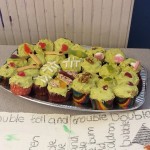 Wow – so many people came to see the year 8 exhibition yesterday and everyone seemed to be blown away by the quality of work.  So although there were only 20 winners going to Stratford, in fact there could have been 50 or 100 winners!
Here are some of the comments that pupils and staff left at the exhibitions:
The gingerbread Macbeth and Lady Macbeth were really cool.
Minecraft Glamis castle was very creative.
The witches made from different materials on card were amazing!
Very creative project – well done!
The King Duncan balloon man was very good and the witches hat with quotes on is great too.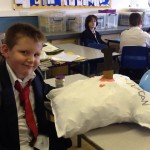 I liked the dead body of King Duncan.
I loved looking at everyone else's work. It is very well done.
The potions and the Mindcraft must have taken ages to make.
Clever, creative and amazing!
The drawing of the guy with the beard (all black) was great.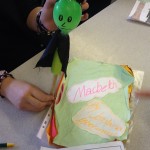 This exhibition was awesome.  My favourite part of the project was the CSI lessons with the evidence and murder!
An amazing model of Macbeth – well done! Good design – I would've never have been able to make that!
Very good exhibition. Lots of effort put into it and you can see that everyone worked hard.  (year 9 student)
All the little tables were full of lovely things.  I can see that all of you put a lot of effort  into everything. It was fab!  ( year 9 student)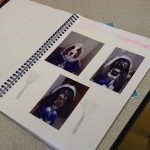 I love how you've actually made Macbeth fun and interesting!
An amazing effort from all the entrants! It was so difficult for Mrs Lane and I to choose the final 20 winners. (Mrs Aspen)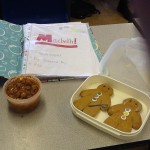 Loved the gingerbread Macbeth.
Leanne's dogs dressed as the 3 witches
Mia Hurst's art work and Megan McGlashan's Macbeth Top Trumps Loved this project!
3 things caught my eye
The dead Duncan prop
The Castle shaped cake
The castle made on Minecraft
Everything was good (year 7 student)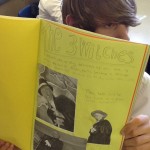 Very good exhibition. I want next year's year 8s to do better tho!
Aidan Lavin's film was awesome!
Great projects – well done year 8!
Well made and looks good! Little dresses with loads of detail on. They look great!
I like the models of the Globe Theatre and the charcoal sketch.
I like the potions – very imaginative!
I loved the sweets and their names.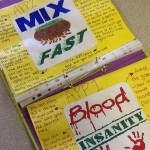 I loved the Globe theatre and the board games. Cool model of Macbeth!
Brilliant! (Ms Stones)
I like the cake. I looks nice.
I liked the way they designed the sculptures especially the Globe theatres!
The inside of the stage is so detailed.
Amazing Macbeth doll!
I like the Globe theatre. Daisy Walker's work is great!
The balloon body is good. 🙂
I liked the charcoal sketch and the dresses.
Well created and designed. It's really interesting!